Roy Hart Theatre's Production of London, 1969
Dionysus:- "Pentheus, you are a man to make men fear; and fearful will be your end - an end that shall raise your fame to the height of heaven. Stretch out your hands, Agauë,, and you her sisters, daughters of Cadmus! I am bringing the young man to his battle; and I and Dionysus shall be the victors."
Louis Frenkel as Pentheus
You do not know what life you live, or what you do, who you are.Dionysus:-""
Pentheus:- "Who I am? Pentheus, son of Echion and Agaue.
Dionysus:- " Pentheus means 'sorrow'. The name fits you well."
Pentheus:- "Take him away. Imprison him in the stables; he'll have all the darkness he wants. -You can dance in there!"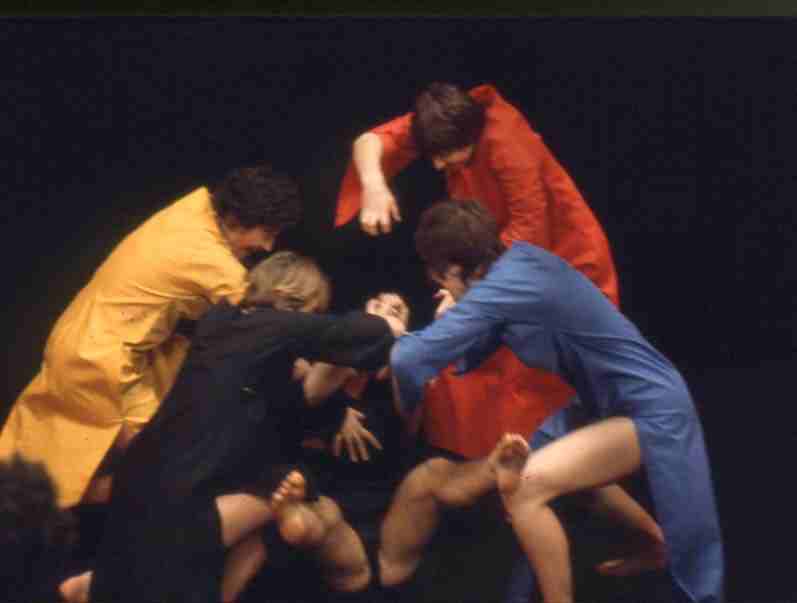 The Bacchae tearing Penthius apart with their bare hands
Chorus:- " Hounds of madness, fly to the mountain, fly, where Cadmus' daughters are dancing in ecstasy! Madden them like a frenzied herd stampeding, against the madman hiding in woman's clothes to spy on the Maenads' rapture! First his mother shall see him craning his neck down from a rounded rock or a withered trunk and shout to the Maenads, 'Who is the man, you Bacchae, who has come to the mountain spying on the swift wild mountain dances of Cadmus' daughters?"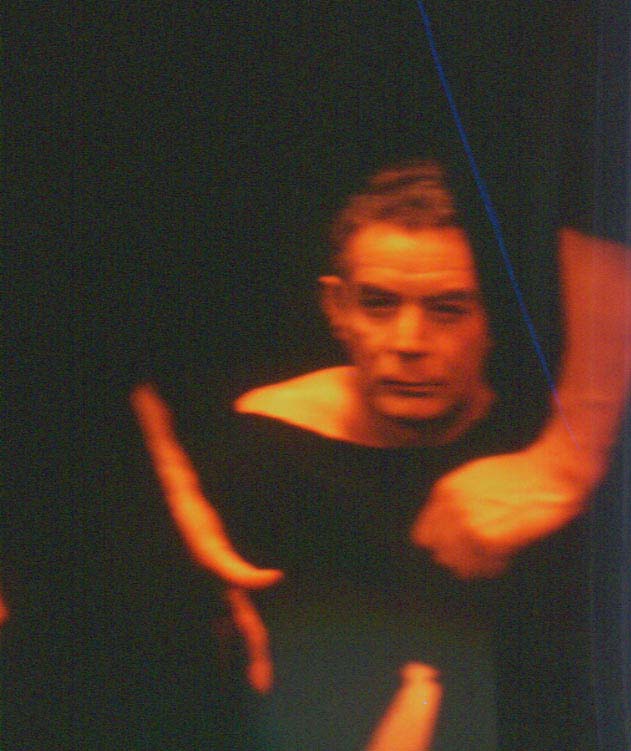 Graham McCormack as Teiresias (blind man)
Teiresias:- "Then you feel as I do. I am young too; I'll make an attempt at the dance."
Cadmus:" You don't think we should make our way to the mountains by carriage?"
Teiresias: "No, no, that would not show the same respect for the god."
Cadmus: "I'll be your guide then - two old men together."
Teiresias: "The god will guide us there, and without weariness."
Cadmus: "Shall we be the only men in Thebes who dance to Bacchus?"
Teiresias: "We are the only men right-minded; the rest are perverse."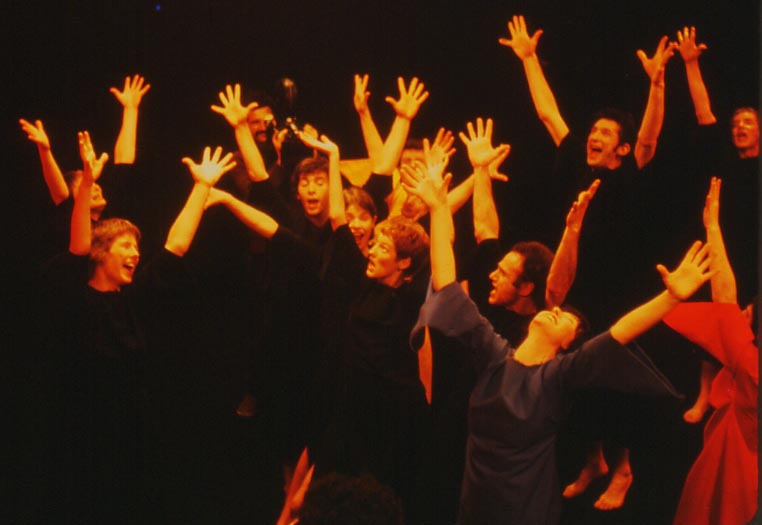 The Chorus - members of the Roy Hart Theatre
Chorus: "On, on! run, dance, delirious, possessed! You , the beauty and grace of golden Tmolus, sing to the rattle of thunderous drums, sing for joy, praise Dionysus, god of joy! Shout like Phrygians, sing out the tunes you know, while the sacred pure toned flute vibrates the air with holy merriment, in time to the pulse of the feet that flock to the mountains, to the mountains! And , like a foal with its mother at pasture, runs and leaps for joy every daughter of Bacchus."
All the above photographs were taken by Paul Silber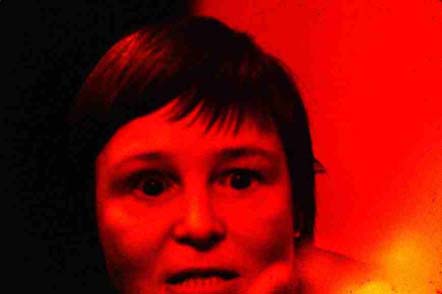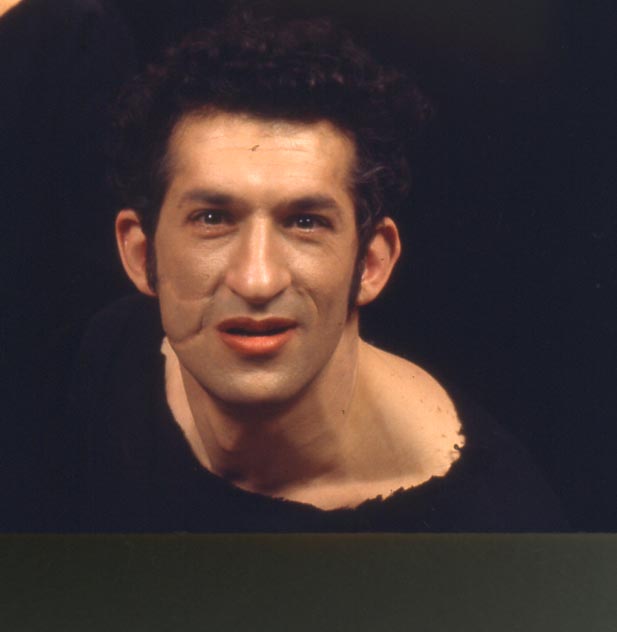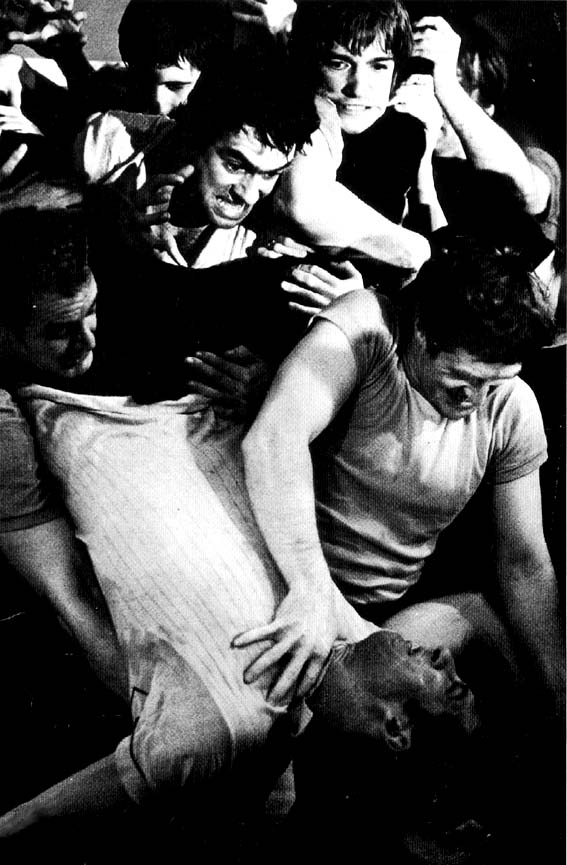 The Bacchae tearing Penthius apart with their bare hands. This image was taken in one of the original rehearsals of the Roy Hart Theatre at the Abraxas Club in Hampstead, London in 1969.
Review of the "Bacchae" by Michael Billington
"Anyone who has faithfully studied the experimental theatre troupes whose work has been seen in London during the past two years must have been struck by one thing : the extent to which their methods and approach overlap. It is not immediately easy to tell whether this is because they are are worshippers at the same shrine. Artaud, or because they have independently arrived at similar conclusions about the theatre : either way the core of unity, under the surface variations, is fascinating to observe.

I have just seen, for instance, the Roy Hart Theatre (an English company based on Belsize Park) giving a single performance of their version of "The Bacchae" at The Place in Dukes Road. For the first half of the evening a group of 20 or more acted and reenacted a ritual of death and rebirth, conducted a series of musically accompanied. vocal experiments which produce some unearthly, marrow-freezing sounds and collectively demonstrated an extraordinary physical plasticity. Thus prepared, they launched into a non-realistic, almost impressionist version of Euripedes's play (Dionysos, for instance, was represented by three actors and Agave by a man) in which they tried to communicate its meaning through the isolation of key lines and speeches and through the use of patterned sound and movement.

As an experiment it had a lot in common with Peter Brook's Roundhouse version of The Tempest: the same exhaustive attention to a single phrase, the same emphasis on non-verbalized sound and the same attempt to mould a group into a single entity. It was, in fact, extremely impressive as a demonstration of disciplined communal theatre and such incidents as the death and rebirth ritual, with myriad hands fluttering like leaves in a breeze, were handled with delicate precision. My sole doubt is a familiar one: productions like this depend very heavily on a foreknowledge of the written text. We have, in fact, to rely on old fashioned, verbal theatre to tell us what a play is actually about and to provide us with the necessary background to enjoy experiments in psychodrama of this kind."