An anecdote of my time with Awe

,,,,,,,I started having lessons with Awe in 1947 when I was nineteen years old. I was a perfect English Rose (his name for me) and it seemed impossible for me to shed this form whatever the weather! I bloomed perpetually, hiding all my rusty leaves and black-fly behind the constant show of beautiful flowers.


,,,,,,In other words, I always tried to produce the sound he asked for in the best possible way – quite unable to open my mouth and really scream from the depths of my guts. It took the experience of motherhood, the death of my husband, and the return to Awe via Malerargues in 2002, to allow myself to exist, with all my withered blooms, to find my voice and to understand what singing is all about!


,,,,,However, along this route of self understanding there were many moments with Awe when the light dawned, even if the execution was still questionable. One evening I went to a party given by another pupil and for this fairly special occasion I bought a new dress, a dress that had a very beautiful petticoat underneath. During the party, possibly with a tot or two of wine within me I daringly lifted the skirt of my dress and showed everyone my gorgeous new petticoat. I felt this was the height of uninhibited behaviour.


,,,,,,A few days later I arrived for my next lesson. After greeting Awe I stood by the piano ready to start the lesion. He looked at me with a slightly knowing smile and said, "I hear you showed your petticoat at Marilyns party." "Yes" I said rather carefully, knowing that there was something to come. There was a pause. He looked gently, but seriously at me, "When are you going to show me your soul?" he asked quietly.


,,,,,,,I hope that the lesson I learned from this has allowed me to get more into touch with my soul and for it to remain more visible to everyone.

Sheila Braggins 2009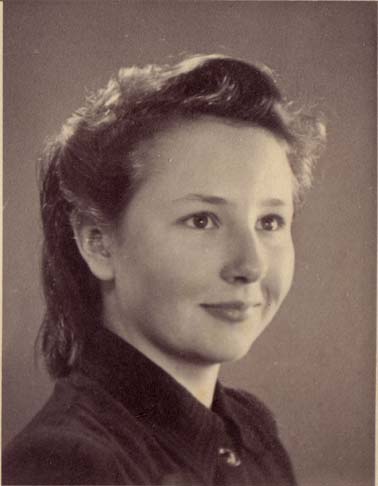 Sheila Braggins, aged fifteen, just four years before meeting Alfred Wolfsohn. She was his pupil for fifteen years, until he died. She then left singing to have a family. She came back to the work in 2002 and since then she has toiled relentlessly to communicate to the world something of who this remarkable man was.

An anecdote of my time with Awe
These are some of Sheila Braggins' writings to be found on this website
"The Way Alfred Wolfsohn Taught"
"Alfred Wolfsohn's View of Myth, Dream, God and the Human Voice"
"Alfred Wolfsohn, the man and his ideas"
"The Legacy of Alfred Wolfsohn"
Profile of members, past and present