Informally yours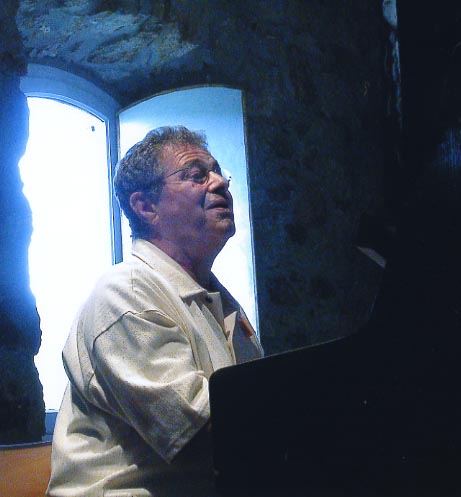 Paul Silber sings this years collection of Blues and Ballads

with Jonathan Hart at the piano

at Malerargues

1 I didn't know what time it was
2 Lover come back to me
3 Bewitched
4 The girl I love
5 When your lover has gone

6 You don't know what love is

7 Stormy Weather

8 Saint Louis Blues

9 Fare thee well

10 Summertime

11 The way you look tonight

12 Cry me a river

13 All the way

14 Careless love
15 I've got a right to sing the Blues
16 Basin Street

Total Running Time 60'00"


As the title says, "Informally yours" is a collection of Blues offered in a spirit of informality,

spiced with the pleasure of singing these immortal classics.

Paul Silber sings with Jonathan Hart's brilliant accompaniment.
.........why the CD?
When Clara, my wife of 25 years, heard that Keith Jarrett, the pianist, while recovering from a serious illness, had created for his wife a CD of the standards that she so loved, Clara thought it would be a good idea if I did the same for her! Happily I had not succumbed to any illness beforehand. I had just retired as a teacher in the Roy Hart Theatre. "Why not?" I thought. So we started.

It shows something of my love of this music that the sheet music was already available in my files! This was quickly assembled. Jonathan Hart was asked if he would work with me on the project. Although he was already heavily engaged for that summer, he immediately agreed to give me what time he could between engagements and looking after his two daughters. This turned out to be three sessions of two hours a piece. Clara was musical director and we were all set to go. The only sheet music I could not find was `My Funny Valentine'. I asked Jonathan if he knew it, "Of course", he replied, so we went straight into it. The tenth track is the result. It was the first and only take we took of that number.

I hope that what comes over in these recordings is the great love I have, not only for the songs themselves, but also for the person for whom I sing them - Clara - HAPPY 25th ANNIVERSARY! -
........and where it has come from
I first took my voice seriously when I was 13. My voice was `breaking' and I realised I had an opportunity for yodelling, which delighted me. I was a child actor and trained under Dirk Bogarde at the `Corona Stage School' in London. At that time, I did some modelling and comic strip photographic sittings! That's show biz for you! Later, as an adult, I entered the business more seriously. Before meeting Roy Hart, I had vocal training with Alfred Kuhn; eventually I appeared in the West End in such musicals as `Oliver!' and `Mr. Pickwick'.

My love of Blues goes back to my teenage years. My records accompanied me wherever I went, even on my military service! I still have these discs with artists like Shirley Bassey, Eydie Gorme and Ella Fitzgerald, singing the immortal numbers! In 1962, at the age of 25, I met Roy Hart, who was to totally re-orientate my career; I also met Jonathan, son of Dorothy Hart, Roy's wife. Jonathan was 6 years old at the time! This was the beginning of a relationship that has never wavered in all these years. He has for some years now been a teacher of voice at the New York University! It is interesting to note, that it is only in 2000, after we came together to create the enclosed CD, that we realised how close we both are, not only in vocal terms but also in our musical senses! THANK YOU, Jonathan.
Paul Silber's index page.
Web site home page.