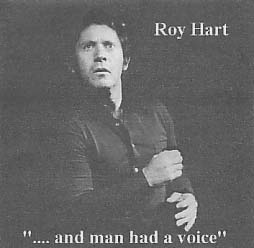 Contents


1 Introduction by Paul Silber.

2 The human voice introduced by Roy Hart.

3 Demonstration of a child's voice.

4 Roy Hart demonstrates various 'specialised' voices.

5 Comparison of a normal range and a 5 octave range. Roy and Dorothy Hart.

6 Three exercises using voices that are `breaking', sung on the word "Bella":Roy and Dorothy Hart and Kaya Anderson.

7 A boy, Roy and Dorothy Hart sing four to five octave leaps using the word "Viola".

8 Roy Hart sings six and a half octaves gliding up and down.

9 Roy Hart illustrates the similarities between his voice, a cello and a violin.

10 Dorothy Hart, Kaya Anderson and Marita Gunther demonstrate the colours of a violin, a viola and a cello. The exercise is sung on a single note.

11 Roy Hart demonstrates primaeval sounds

12 Roy Hart sings "chorded" sounds

13 Using these `chorded' sounds, Roy Hart sings "O Come All Ye Faithful".

14 Iago's "Credo" from Verdi's Othello, sung in a conventional way (in English) by Roy Hart, by way of comparison with the next track. Piano: Dorothy Hart

15 The same aria, sung by Roy Hart with fullest expression. Piano: Dorothy Hart

16 Roy Hart "Rhapsody on a Windy Night" by T.S. Eliot

17 Roy Hart sings "Niun Mi Tema" from Verdi's opera "Othello" Piano: Dorothy Hart

18 Roy Hart concludes

To be noted


This recording was originally recorded by Roy Hart on his 'Revox' magnetic tape recorder, still to be seen in

'La Memoire'

. It was his answer to

Alfred Wolfsohn

's recording

"The Human Voice"

. It was a good answer since it shows the movements in the work that had already taken place since he had taken on Alfred's vocal research in 1962. This audio CD is therefore a very good example of where Roy had got to by 1964. Although there was much growth between then and 1975 when he

died

, that growth was not in any way cut off from the roots left behind by Alfred Wolfsohn.

Tracks 12 and 13

These multiphonic sounds have not been artificially created by modern editing tools or multi track recording, at the time of the original recording these devises did not exist. So the sounds really where created by Roy Hart's

voice

without any external assistance.
TOTAL RUNNING TIME 45'48"
"....and man had a voice"